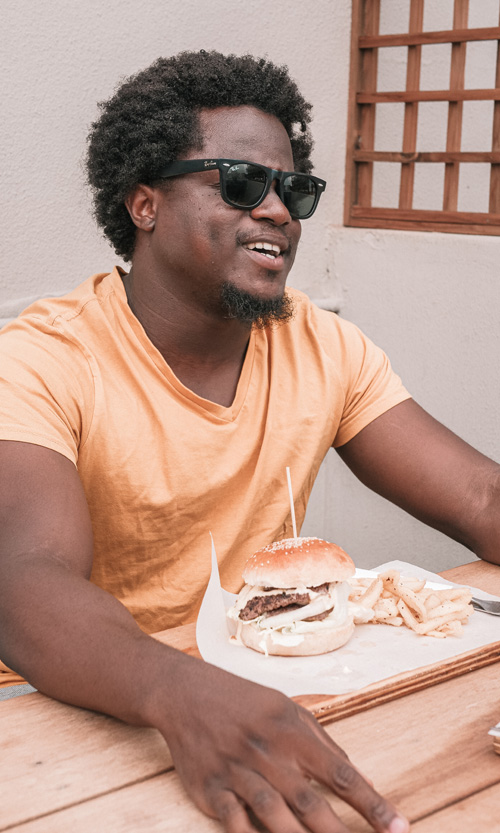 134 Villiers Road, Walmer (Cnr of Villiers Road + 6th Ave)
WED – FRI: 2pm – 9pm, SAT: 1pm – 9pm
Reservations: 064 801 9571 or book a table online. Walk ins welcome. [restaurant-reservations ruid="0924388d-8c1c-48ab-9bb4-c84595d7c122″]

Some of our favourite latest reviews
So my fiancé and I finally went there today!!! I have not tasted such brilliant restaurant food in a long time!!!
you know when every bite makes you make an involuntary sound of enjoyment, this was it, my fiancé is a chef too and we absolutely loved it, the service was great, the atmosphere is easy. The owner, his beautiful wife and their staff are approachable.
We had their 2 classic burgers, the smokehouse and I had the jalapeno burger OMW 
My fiancé Ismail Begg was so impressed by the ACTUAL chips, not frozen, CUT POTATOES!😂 EVERYTHING IS OWN MADE. 
LOVE LOVE LOVE LOVE.
THEIR BELGIUM WAFFLES!!!!!!! 
I said enough, just go eat their food please
A Gem of a place, had the Wednesday burger special there last night with the family and it was the best burgers I have eaten in Port Elizabeth. 
The chilli poppers is really a must try. 
You will see us more often. 
Thank you
We visited after SAA's inflight magazine said it was where to find the best burgers in PE
Dylan and Gracious giggled on hearing it and got down to showing us it was justified
… my hubby had his Well Done and chef Gracious still got it juicy and delicious
… and the crispy onion rings are abundant
Well worth the SAA accolade