OUR STORY
The story of a family meat business that began in the rural Karoo in 1905 and continues in the form of a gourmet burger restaurant located in an historic neighbourhood of a South African city.
A FAMILY BUSINESS
Husband and wife team, Freddy and Anna Heydenrych, are behind the concept of Frederick & Son, a gourmet burger and boerie restaurant situated in the Baakens Valley, Port Elizabeth.  The restaurant was established in its valley venue in December 2016 and has enjoyed a year of growth, introducing their customers to quality meat products which are all produced in-house in small batches according to Freddy's own recipes.
Freddy leans on a rich heritage in the meat business.  As the oldest son of a butcher from the small town of Jansenville in the Karoo, he was introduced to the art of making quality meat at a young age.  Many local travelers still recall pitstops at the well-known butchery on the road to Graaff-Reinet which gained its reputation for its quality biltong and friendly service.
The Heydenrych family first started producing meat products in 1905.  A love of meat and appreciation for an 'old-fashioned' approach to food and service is firmly entrenched in Freddy.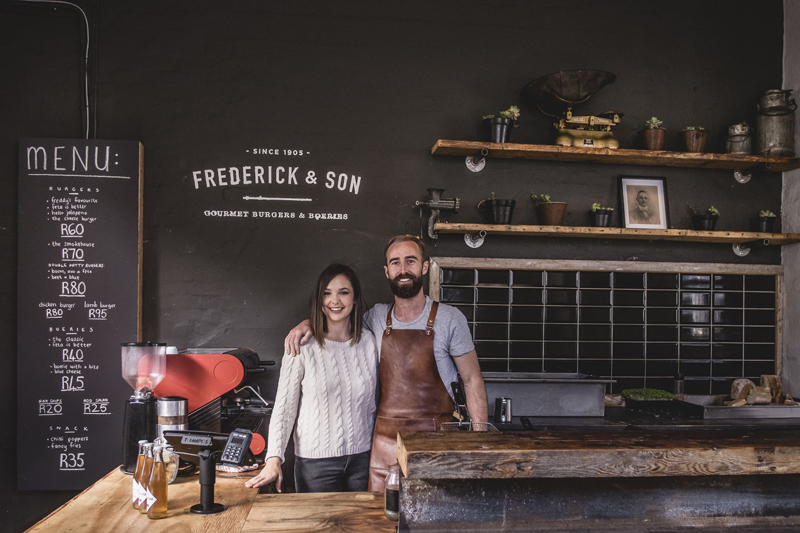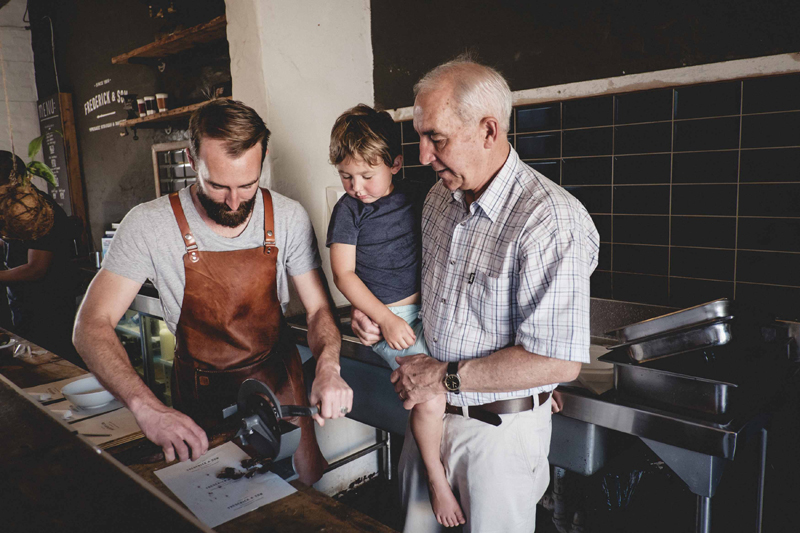 "Our customers often ask who the Frederick & Son are. More than it being only a reference to Fred and his son or Fred and his dad, it's a tribute to family heritage. Fred is the fourth Johan Frederick to be making meat according to traditional family recipes. As he builds on a strong foundation of family values and passion for good meat, he is also inspired to continue experimenting and introducing new ideas and continue to treat new generations of customers to meat the Frederick & Son way."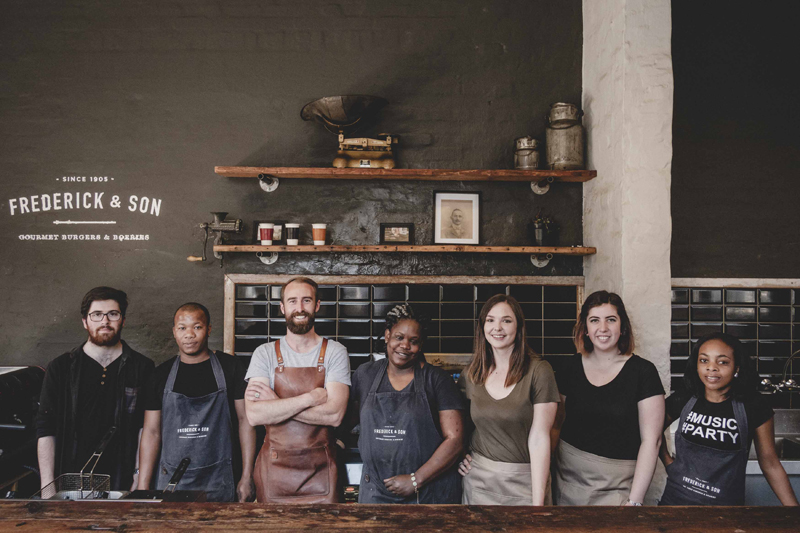 NEW BEGINNINGS
In early 2015, Freddy and Anna requested the original hand-written Heydenrych family boerewors recipe and decided to try their hand at selling gourmet boerie rolls at a new local food market.  The Valley Market has provided Frederick & Son the platform to experiment and introduce their products to the local market and Freddy has been a popular vendor at the market since its inception and to this day.  A year into the journey, it was time to pursue meat full-time.  An opportunity opened up within a development in the Baakens Valley and the couple were excited to take a chance on pursuing their dream.
Frederick & Son operates out of a small 'hole-in-the-wall' space next door to the popular Remos Italian restaurant and within a greater development comprising of a rum distillery, ice-cream factory, micro-brewery and artist's studios.  Although small in size, the restaurant is big in heart and benefits from the relationship with the Richmond Hill Brewing Company tap room next door where extra seating is available for customers who would like to enjoy a locally crafted pint with their burger.
A JOURNEY OF DISCOVERY
Freddy and Anna enjoy working alongside their team and are invested in developing their staff and providing sustainable employment.  The couple believe that fostering good relationships within their team is key to success. 
They are also intentional about building relationships with local suppliers who subscribe to the same values regarding food as they do.  Always on the look out for making connections with those interested in growing a sustainable local food chain, they welcome new ideas.
Freddy is master of all things meat at Frederick & Son, while Anna takes a special interest in developing recipes using pure, whole-food ingredients.  The couple are on a journey of discovery and believe in constantly learning and connecting with others.  They like to think of their menu offering as 'slow food' in contrast to the traditional notion of burgers as fast food.
Follow the journey in more detail on Anna's blog, Before Breakfast.